Re-imagined Tulips
06-June-2017
06-June-2017 10:07
in Gardens of the mind
by Admin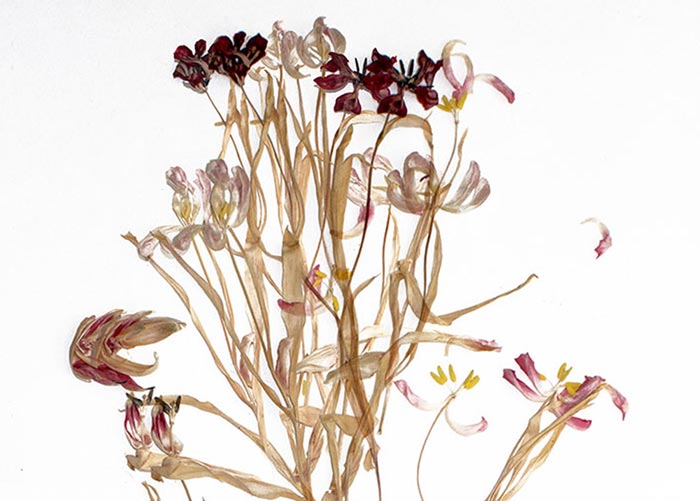 Thinking about a performance she was giving with Leslie Forbes for a 'Silvering the Cerebrum' conference, Sue Ridge re-imagined the tulips at Kelmscott Manor...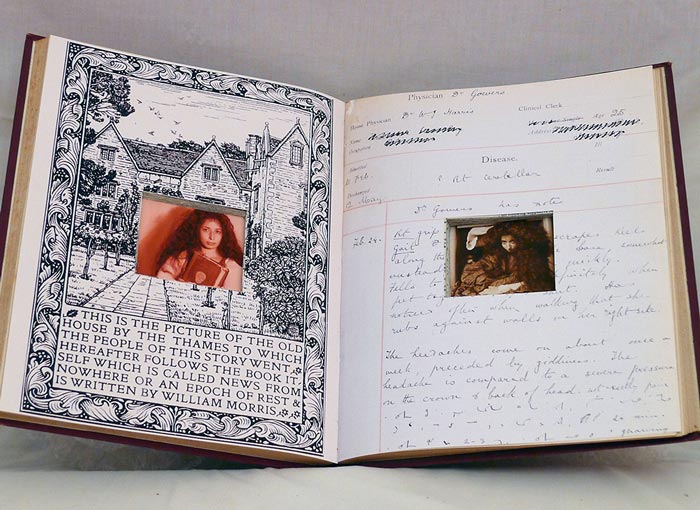 " - Kelmscott Manor, the Morris family's country home, was the setting of William's Utopian novel 'News from Nowhere'. Returning from a visit there with Sue, Julia and Leslie, Andrew binds Nowhere to case-notes by the neurologist William Gowers. The two Williams shared an extraordinary number of connections.
- Inside the book Jenny is growing, trying to escape her symptoms. Growing too big for a novel, she is now inhabiting an exhibition at Queen Square."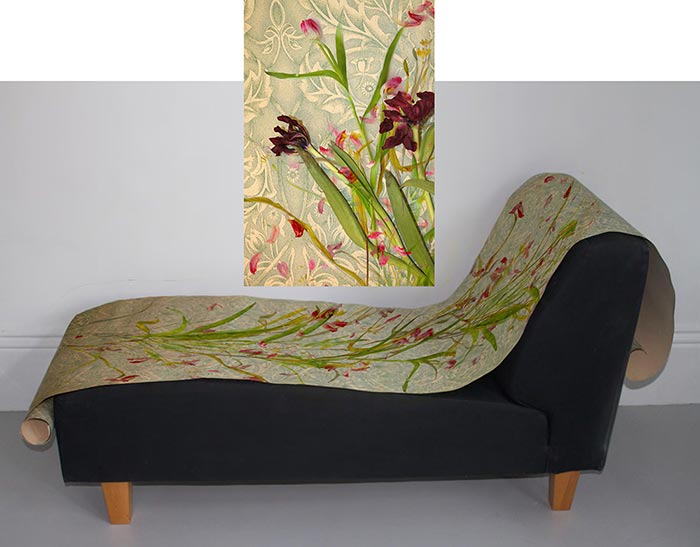 " - 'Around Kelmscott Manor,' Jenny says. 'you will sense Morris bones among the wild tulips that Papa declared were the beautifulest flowers on earth. He wrote: Hidden by tulips to his knee, his heart's desire his eyes did see. His wallpapers gave tulips an orderly pattern, but Mother said, 'You can't make desire orderly.'
Sue is thinking of how many people associate Jane with Rossetti's endless pictures of her reclining on couches. Dr. Q asks: 'If you had married William Morris, wouldn't you recline?'
Finding that no London flower shop sells wild tulips, Sue gets bog-standard Dutch ones, drapes Morris wallpaper over a couch and lays the wilting tulips on it. Then photographs their recline, decline and fall."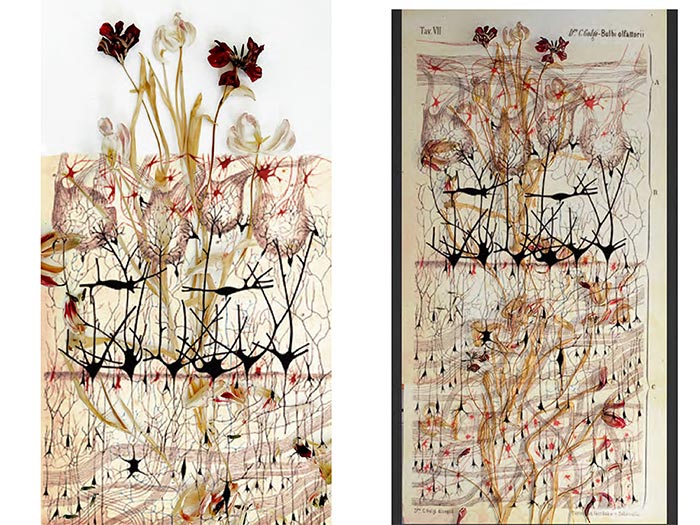 " - Dreaming about the scent of flowers (standard tulips have none), Sue wanders through neural forests drawn by Camillo Golgi and plants olfactory bulbs among her tulip patterns, which grow agitated."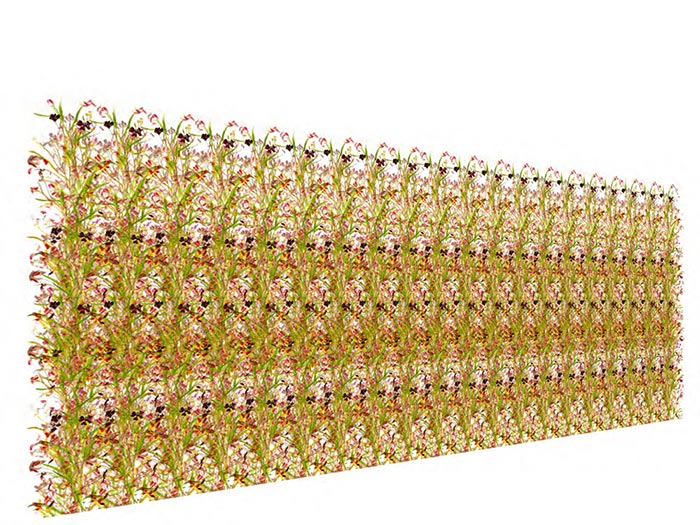 " - 'I am a weed, not a tulip,' says Jenny. 'My seizures have disorderly patterns. Should I be cherished - or weeded out?'"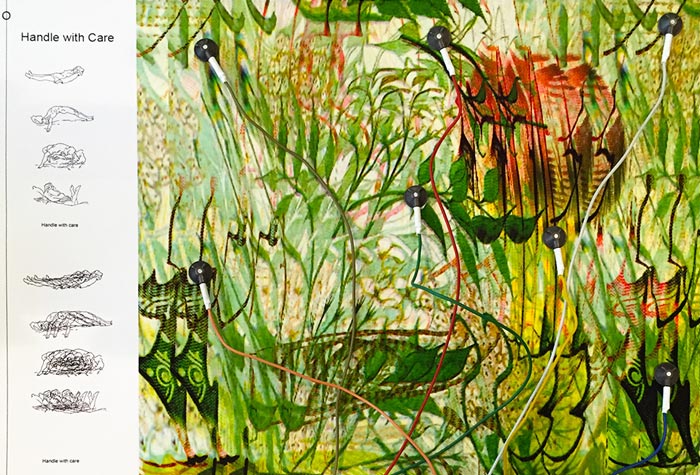 " - Leslie is attached by EEG wires to Sue's epileptic wallpaper and Jenny, who is chanting: 'Walls have voices, walls have ears. Hear hear! Hearsay. I am, amended, extended, untended - suspended!'"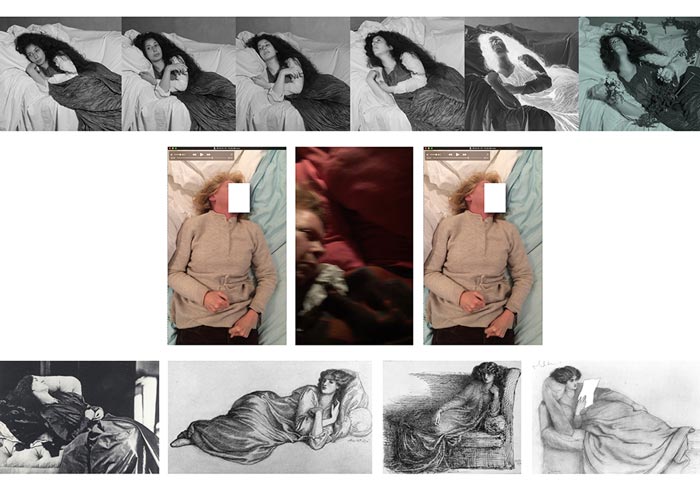 " - 'I've lost the plot,' Leslie thinks. 'Repeating myself. Wallpaper. But if I take enough pills to entirely suppress my seizures, I lose the ability to think creatively.' So she takes fewer pills, keeps writing. Expression versus suppression.
'Papa was fortunate,' Jenny tells us. 'He could choose when to write poetry, and when to make wallpaper. I had no choice. All my life I dreamed of university, but my dreams, like seizures, were suppressed with bromide.'"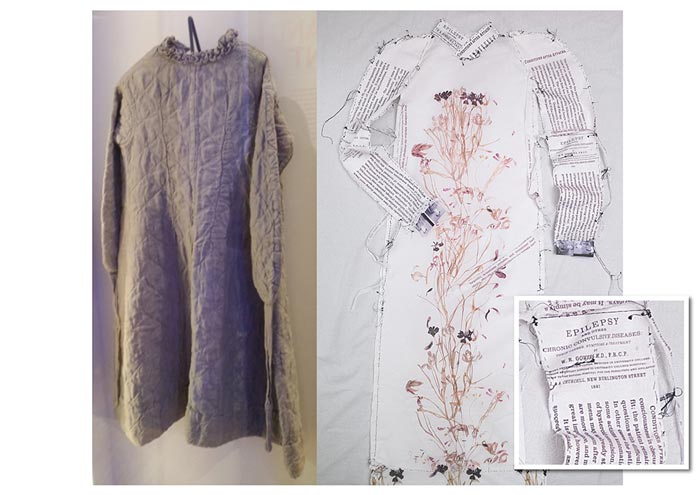 " - Taking up a needle instead of a pen, Leslie stitches -deliberately badly - a 'Post-Seizure, Pre-Raphaelite' dress printed with Sue's tulips, by now even more wilted, and Gowers' notes on epilepsy.
The Morris women lay down their needles and take up pens."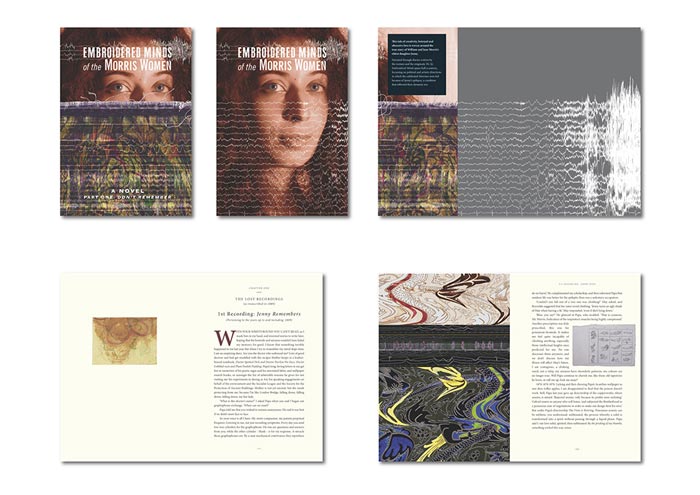 " - Our gothic illustrated novel is to be serialised in 64-page sections, a nod at the Victorian tradition used by William Morris and Charles Dickens, among many others. Renata Whurr jokes that she likes 'happy endings'. 'I don't read novels,' she says, 'just textbooks. With Embroidered Minds, a happy ending would be if through this project, society became more understanding about epilepsy.'
One advantage of fiction is that happy endings are possible."