Up The Garden Path
03-April-2018
03-April-2018 20:29
in Gardens of the mind
by Admin
The ceramic tiled path in the Embroidered Minds Epilepsy Garden at the Chelsea Flower Show is an integral part of the scheme and leads viewers to the focus of the garden where a 'seizure' interrupts the planting. The path leads up to and under a specially designed oak bench which expresses the chaos of an epileptic seizure as it hits the vertical green wall at the rear.
Designed by Embroidered Minds collaborators Sue Ridge and Andrew Thomas together with Julia Dwyer the path starts with a William Morris tile design which disintegrates and is interrupted by glitches and seizure based images, representing differing experiences of epilepsy.
Frequently incorporating both repeat pattern motifs and illustrative picture panels the tiles created by Morris & Co were heavily influenced by Medieval themes, as was much of Morris' work, and usually made for walls and fire places to complement both his wallpapers, fabrics and interior designs.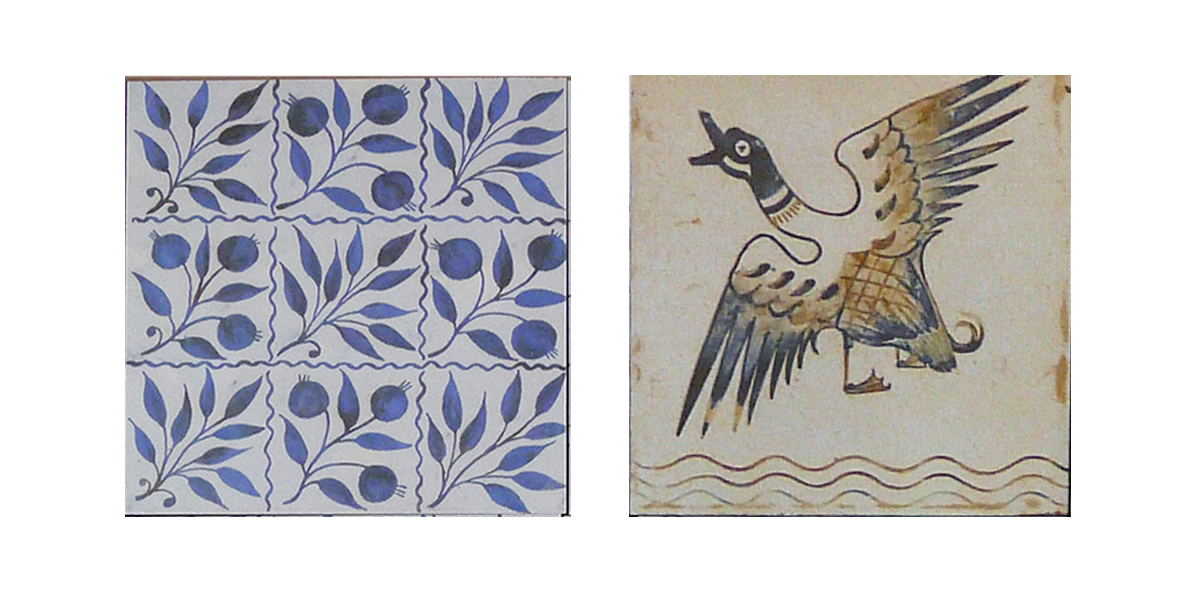 The starting point of our path is the blue and white 'Nine-Square Bough' tile, a pattern which was produced by Morris & Co c.1870 and designed by William Morris or William De Morgan (records are not clear). With its simplified elements based on natural subjects it bore all the hallmarks of the Arts & Crafts movement, attractive to customers wanting to move on from heavy Victorian patterns. The motif of a branch with leaves and fruit had previously been used by Morris in his 'Fruit' wallpaper design (also known as 'Pomegranate') of 1866. Another Morris & Co tile in our path shows a duck taking flight - in hope (the design is attributed to Philip Webb architect of Red House where the same design is painted onto glass panels).
For most of their production, Morris & Co tiles were painted onto ready made Dutch tile blanks as the company did not have a dedicated ceramics kiln which could fire to high temperatures to make tiles from scratch and had to utilise the stained glass kiln they had at Queen Square. This undoubtedly had an effect on the finished colours and surfaces they could achieve. The tiles would have been hand painted by women and girls in the company following designs by Morris and others.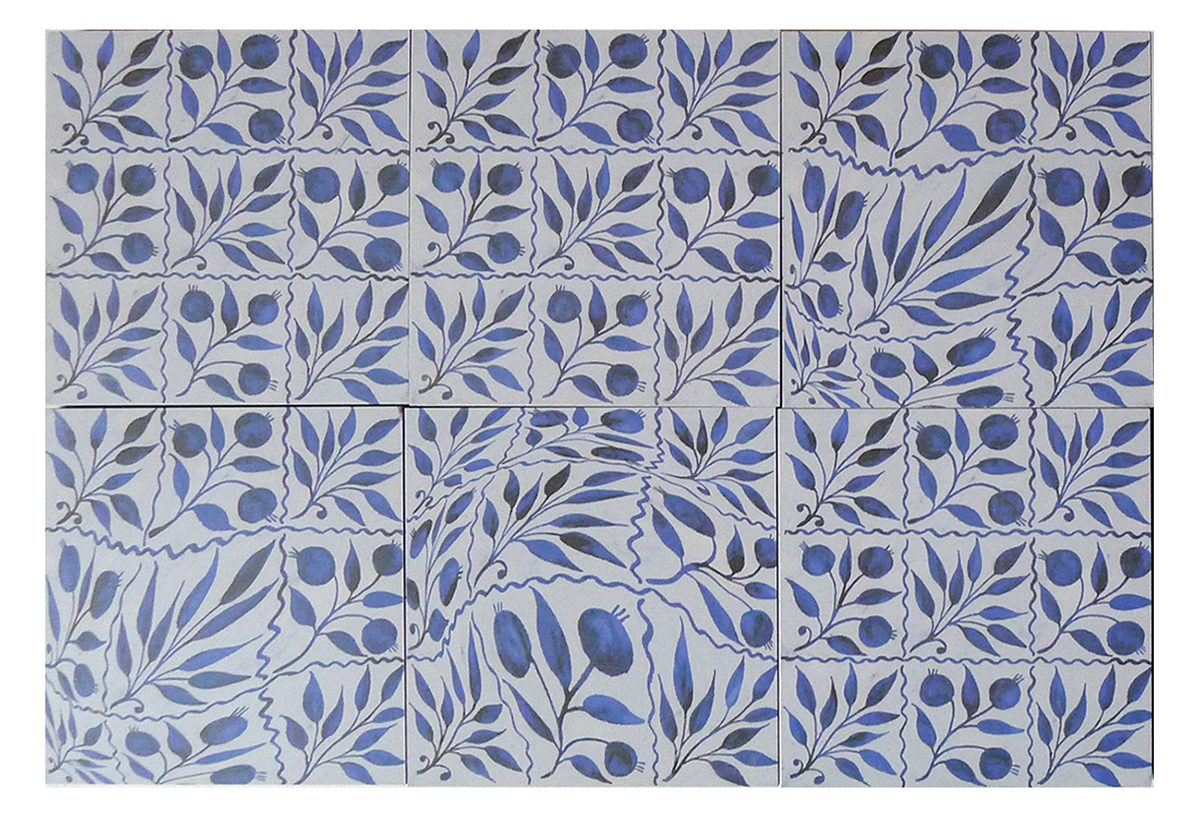 In our path the initial pattern begins to distort and blur representing effects that can be experienced by epilepsy sufferers as auras.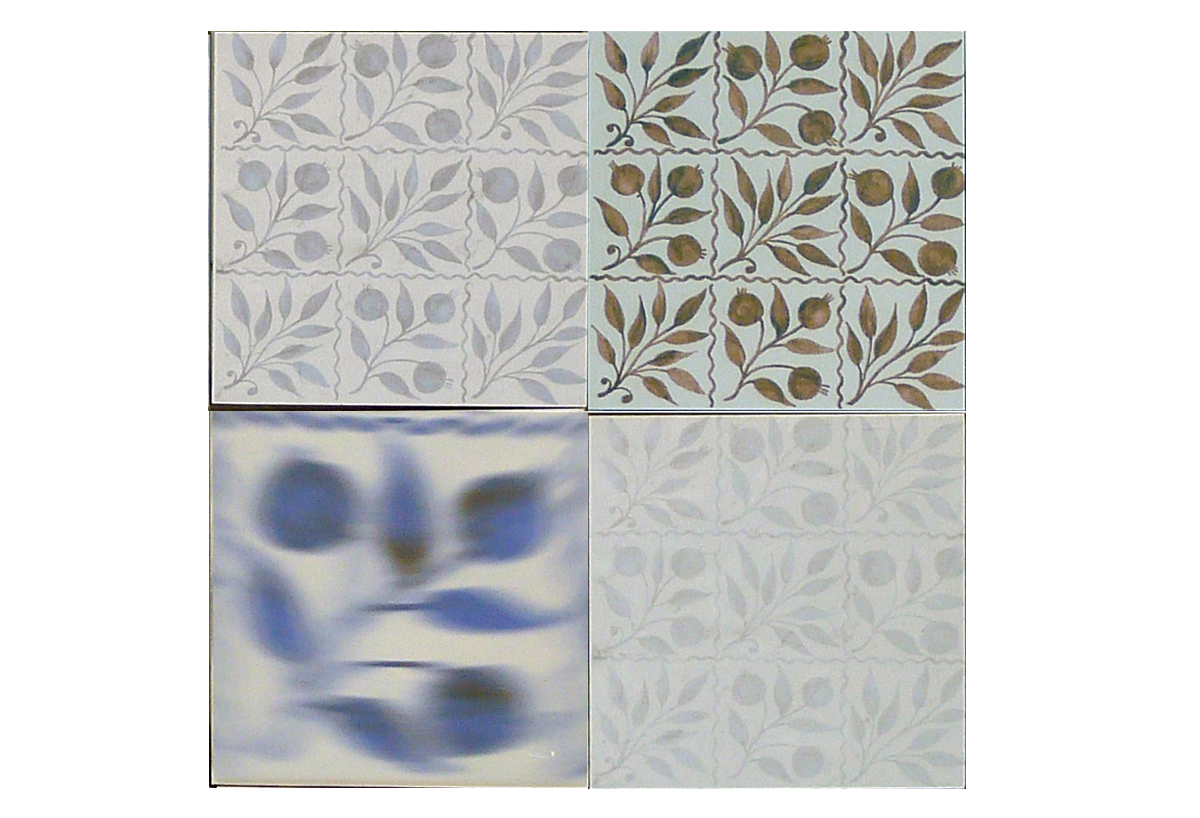 A sudden colour change and pattern fading represent 'Absence' seizures where an experience of reality may cease momentarily.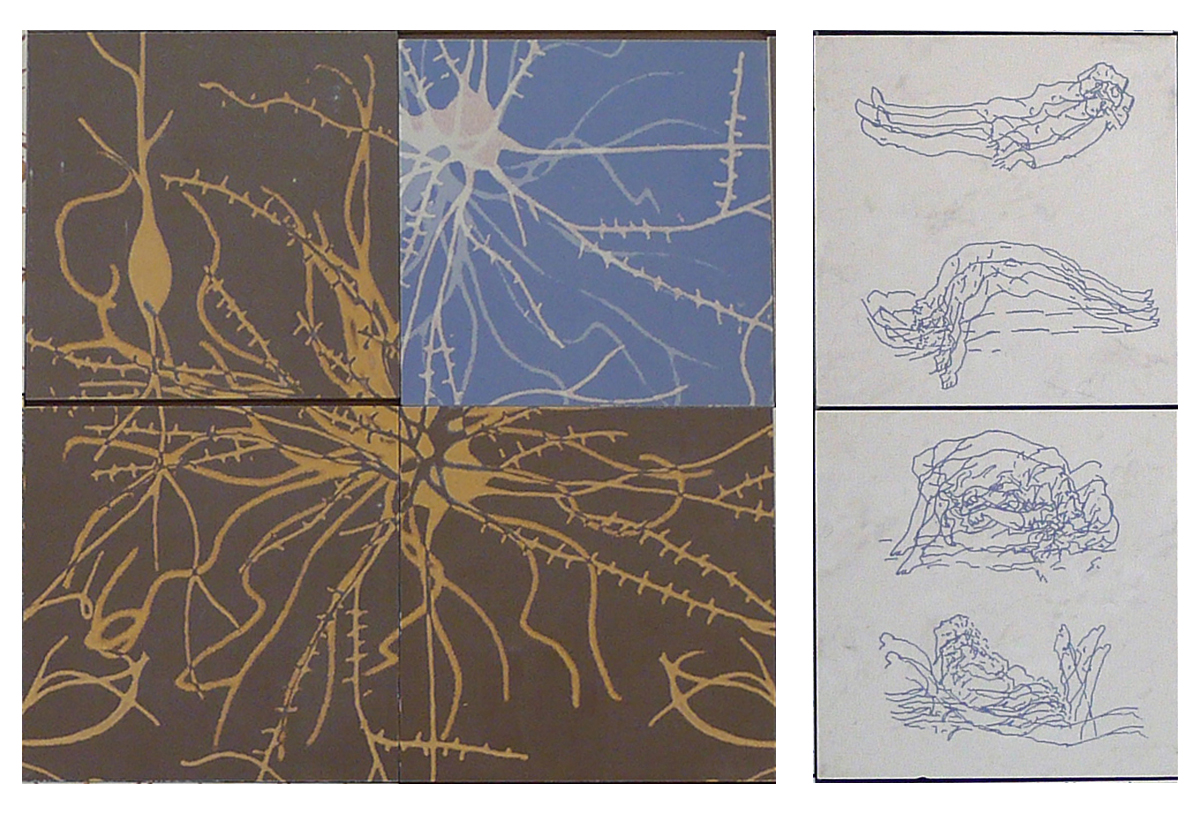 The pattern is also gradually interrupted by other images (or 'glitches') drawn from records of neurological and epileptic experience. Some are based on images created by Ramón y Cajal the Spanish Nobel Prize winning neurologist and pathologist who investigated the microscopic structure of the brain in the early 20th C. Others are drawn from the records of William Gowers the British neurologist who worked at the National Hospital for the Paralysed and Epileptic from 1870-1910.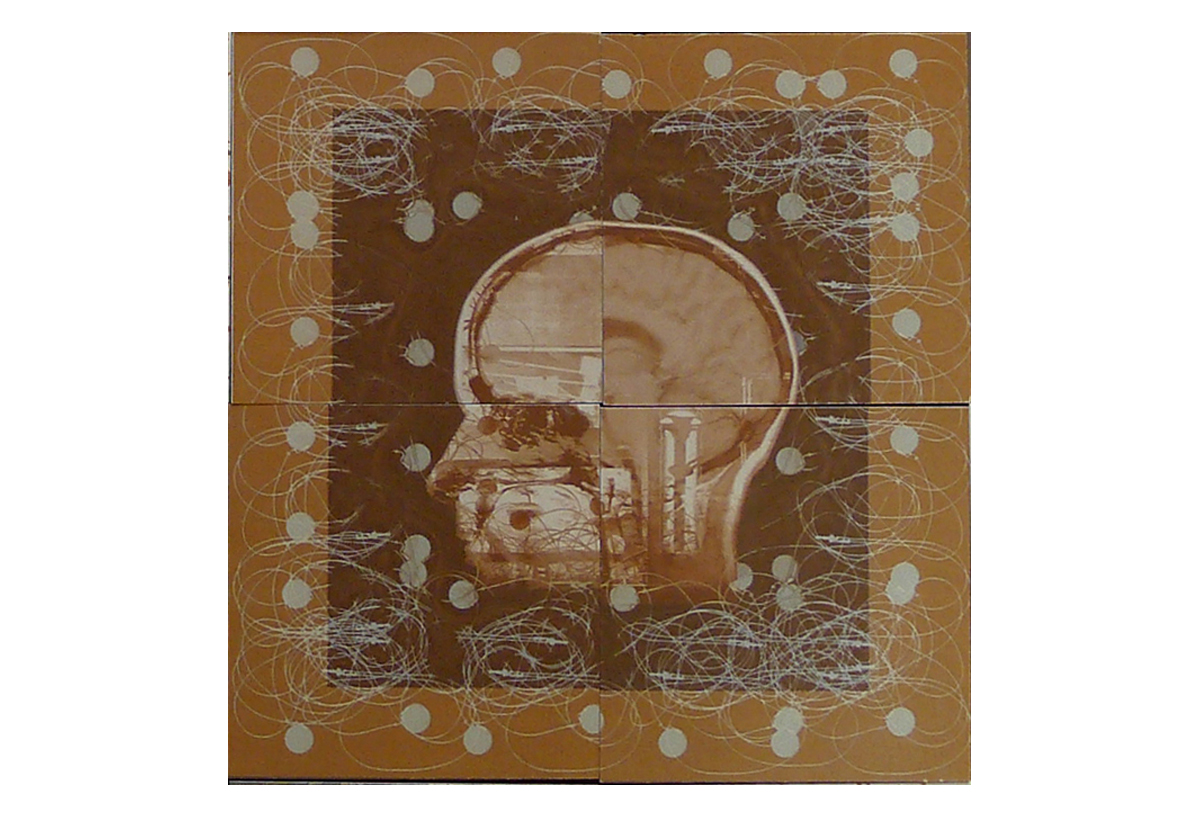 Further tile designs use imagined entries from William Morris' Secret Sketch Book together with x-ray/MRI images created by Sue Ridge and Walks in Queen Square: a palimpsest of 1870 by Julia Dwyer. As the path runs under the chaotic end of the bench the glitch tiles are concentrated together representing a tonic-clonic seizure.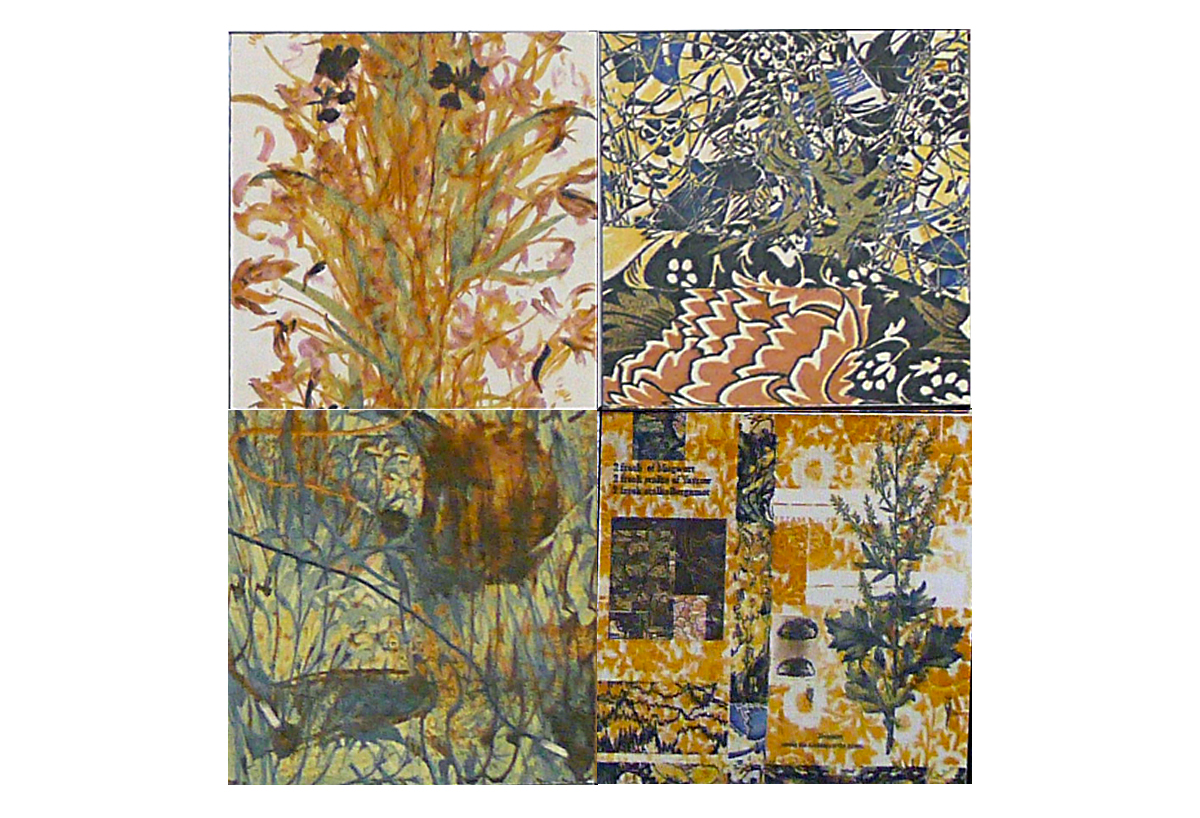 Our reinterpreted garden floor tiles were digitally printed and very high fired in Bologna and then had a special non-slip surface applied - I'm not sure William Morris would have approved though!
www.embroideredminds-epilepsygarden.org